Established Year - 1991
Manipal Hospital, Bangalore
Central Mall, 45/1, 45th Cross Rd, opp. Bangalore, Kottapalya, Jayanagara 9th Block, Jayanagar, Bengaluru, Karnataka 560069, India
The seeds of our origin were sown as early as 1953 when the founder of the Manipal Education and Medical Group (MEMG), Dr. T.M.A. Pai, established the Kasturba Medical College in Manipal, Karnataka. Manipal Hospitals... read more
Send Enquiry
About The Hospital
The seeds of our origin were sown as early as 1953 when the founder of the Manipal Education and Medical Group (MEMG), Dr. T.M.A. Pai, established the Kasturba Medical College in Manipal, Karnataka. Manipal Hospitals as an entity came into existence in 1991 with the launch of our 650-bed flagship hospital at Old Airport Road, Bangalore.
Their core values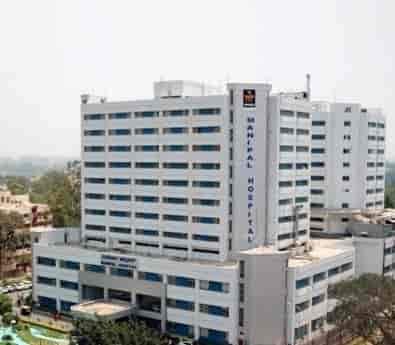 Treatments Offered
Neuro / Spine
Starting from $5,500
Neurology
Starting from $11,150
Orthopedics
Starting from $12,200
Nephrology & Urology
Starting from $5,400
Liver Transplant
Starting from $5,100
Top Doctors
Team & specialisation
Centres of Excellence
Accident and Emergency Care
Cancer Care/Oncology
Cardiology
Cardiothoracic Vascular Surgery
Gastrointestinal Science
Laparoscopic Surgery
Liver Transplantation Surgery
Nephrology
Neurology
Neurosurgery
Obstetrics and Gynecology
Organ Transplant
Orthopaedics
Paediatric And Child Care
Rheumatology
Spine Care
Urology
Infrastructure
Blogs
By HealthTrip Team
Jan 20, 2021
8 Best Lung Transplant Hospitals In India
Suppose you or your loved ones are suffering from any of the debilitating lung diseases, and your doctor has prescribed a lung transplant as the only option. In that case, we offer an expert suggestion on which hospitals can be good for you. According to the International Society of Heart and Lung Transplantation (ISHLT), around 2000 cases undergo lung transplantation every year. Underlying causes like chronic obstructive pulmonary disease (COPD includes emphysema and chronic bronchitis), idiopathic pulmonary fibrosis, idiopathic pulmonary arterial hypertension, or cystic fibrosis often might lead to lung transplant. A lung transplant is a procedure done to remove a diseased lung or a particular lobe from the lung to ensure the smooth and safe functioning of the organ. The procedure is chosen by doctors only when all other treatment modalities fail. Usually, three types of lung transplants can be performed on the patient- single, bilateral, sequential lung transplant, and heart-lung transplant. But, before a lung transplant is even considered, two crucial decisions are made. 1. How long a patient can go without a lung transplant? 2. How long can the patient live after undergoing the lung transplant? Once, the benefits outweigh the risks, a lung transplant is advised for the patients. A lung transplant is a costly procedure and living, or dead donors are used to conducting the transplant of the diseased lung in a patient. The procedure costs approximately 20 to 25 lakhs for either single or double lung transplants in our country. The same amount can go to ICU (intensive care unit), and medicines post-surgery. Due to aftercare medicines given to lung transplant patients post-surgery several associated risks may arise like blood clots, cancer, diabetes, or stomach problems. So, here we have jotted down some hospitals that can do well for you when it comes to lung transplantation1. Kokilaben Dhirubhai Ambani Hospital, Mumbai Lung function tests, CT (computed tomogram) scans, and other general tests often come together for determining the condition of the patient. Before, during, and after the surgery, various tests are required to maintain the overall health and wellness of the person. Test facilities, and surgical and post-op care are something that is taken care of in an excellent way in the hospital. You can opt for this hospital if you want to undergo a hassle-free lung transplantation process. Address: Jain Towers, 16th Floor, 17, Mathew Road, Opera House, Mumbai, Maharashtra 400042 Contact number: 022 30973097 2. Amrita Hospital, Kochi According to the hospital, more than 80% of patients survive the first year of surgery, and almost 50% survive beyond five years. ECMO (Extracorporeal Membrane Oxygenation), blood transfusion, pathology, microbiology, and other services like radiology and intensive care services are immensely well developed in the hospital. The lung transplantation service at Amrita Institute of Medical Sciences is a multidisciplinary integrated service that drives its to strength from the blessings of Mata Amritanandamayi and the skills and expertise of its core lung transplant team which are fortunate to have trained in internationally reputed lung transplant units in the World. The world-class support facilities including an ECMO, blood transfusion, pathology, microbiology, infection control, radiology services, and intensivist services allow us to expect the best possible outcomes for our patients. Address: Ponekkara, P. O, Kochi, Kerala 682041 Contact number: 0484 2851234 3. Manipal Hospital, Bangalore The hospital is well equipped to handle different forms of organ transplantations. Experienced pulmonologists & thoracic surgeons can help patients in the best possible ways when it comes to undergoing tests, surgery, or aftercare. They have highly advanced technological facilities with specialized diagnostic labs, operation theatres, radiation units, and robotic technology which makes them one of the largest quaternary care giants in the country with patient comfort. Address: Old Airport Road, Kodihalli, HAL Airport Road, Near-Diamond District, Bengaluru, Karnataka 560017 Contact number: 080 22221111 4. Wockhardt Hospital, Mumbai The hospital envisions quality treatment and affordable healthcare for every patient. With the cutting-edge technology at hand, the hospital can be the best place if you are seeking lung transplant facilities. The services offered to a lung transplant patient are at par with the said benchmarks available globally. Thus, if you are looking for a safe lung transplant procedure, you can rely on the hospital's reputation for the surgery. Address: 1877, Dr Anand Rao Nair Road, Near Agripada Police Station, Mumbai Central (E), Mumbai, Maharashtra 400011 Contact number: 022 61784444 5. Gleneagles Global Hospitals, Chennai The first-ever lung transplant surgery was performed in this hospital and it has some of the best staff and surgeons to look after patients who plan to undergo a lung transplant. The wards and surgery segments are well furnished and equipped for the convenience of the patients at the best competitive costs. Address: Ground Floor, Old No.62, New No 56, 4th Main Road, Gandhi Nagar, Adyar, Chennai, Tamil Nadu 600020 Contact number: 044 33242424 6. Yashoda Hospital, Secunderabad Yashoda Hospital is one of the best places to undergo lung transplants in India. After the surgery, patients would be kept a few days in the ICU, and if ECMO is not required, they are released for home. Follow-ups are quite rigorous, and often the 5-year survival rate is outstanding in patients suffering from previous lung disease conditions. Address: Rajbhavan Road, Somajiguda, Hyderabad, Telangana 500082 Contact number: 040 45674567 7. Medanta Hospital, Gurgaon Usually, lung transplants, bullectomy, and lung volume reduction techniques are frequently performed in this hospital. Hence, the hospital is quite an excellent place to begin treatments for lung disorders. Various pulmonary diseases at their end-stage might require a lung transplantation process and thus, the hospital is completely equipped for the procedure. Address: CH Baktawar Singh Road, Sector 38, Gurugram, Haryana 122001 Contact number: 0124 4141414 8. Max Healthcare Hospital, Delhi The process of transplant assessment is immensely standardized in the hospital. After the evaluations, patients go through a waiting period, and several other tests are often performed to determine the fitness of the patient for the transplant. Once the transplant is done, the patients are placed on interim check-up visits, and the hospital takes excellent care of every patient who visits it for the procedure. This hospital is also renowned for the 5-year survival window since the watching for signs is quite rigorous for rejection and infection here. Address: No. 1, 2, Press Enclave Road, Mandir Marg, Saket Institutional Area, Saket, New Delhi, Delhi 110017 Contact number: 011 26515050 So, if someone around you is suffering from any lung disease or requires a lung transplant recommend them these hospitals which are quite well known for the standard facilities and rigorous follow-up schemes. Even if it is for you, do not forget to enquire about these hospitals as a suitable hospital can increase your chances of survival after lung surgery.
By Hospals Team
Oct 07, 2020
Biggest Hospitals In India
India has shown an immense growth in medical infrastructure and here you will see 10 best hospitals in India based on their specialties.1. All India Institute of Medical Sciences - New Delhi AIIMS strives hard to make world class clinical care available to millions of underprivileged citizens of India and neighboring countries. While its magnificent buildings and hi-tech facilities may create a superficial image of elitism, a visit to AIIMS is enough to dispel any such illusion. Its corridors are thronged by patients, most of them too poor to afford quality treatment elsewhere. They go to AIIMS with high hopes because of the reputation which AIIMS has built up. AIIMS is at present, not a single hospital but a conglomerate of facilities. It has over 1500 spread over the main hospital, Dr. Rajendra Prasad Centre for Ophthalmic sciences, Cardiothoracic Centre, Neurosciences Centre, Institute Rotary Centre Hospital and De-addiction Centre. 2. Fortis Hospital - Kolkata Fortis Hospital, Anandapur, Kolkata is a world-class super-specialty NABH accredited tertiary care healthcare hospital. The 10-storied, 400 bed hospital (operational 200 Bed) is built on a 3 lakh square feet area, equipped with the latest technologies in the medical world. Fortis Healthcare Limited is a leading integrated healthcare delivery service provider in India. The healthcare verticals of the company primarily comprise hospitals, diagnostics and day care specialty facilities. 3. Indraprastha Apollo Hospital - New Delhi Apollo Hospitals opened its doors in 1983 and ever since nurtured a mission to bring healthcare of international standards within the reach of every individual. Apollo is committed to the achievement and maintenance of excellence in education, research and healthcare for the benefit of humanity. In the 36 years since, it has scripted one of the most magnificent stories of success that India has seen. Not only is the Apollo Group one of the largest integrated healthcare groups in the region, it also successfully catalyzed the private healthcare revolution in the country. Apollo today has made every aspect of their lofty mission a reality. Along the way the journey has touched and enriched 42 million lives who came from 120 countries. 4. Lilavati Hospital - Mumbai Lilavati is a premier multi-specialty tertiary care hospital of India and has been acknowledged globally as the center of medical excellence. Over the years, Lilavati Hospital & Research Centre has developed unmatched trust with its patients on the basis of a strong foundation which includes the state-of-the-art facilities, best medical expertise, research, education and charitable endeavors. Today the hospital serves patients from all walks of life, not only national but also international. The motto of the hospital is'Sarvetra Sukhinah:Santu, Sarve Santu Niramaya:' which means 'Let all be blissful, Let all stay healthy'. The hospital is "More than Healthcare, it's Human Care". 5. Christian Medical College - Vellore Christian Medical College Vellore was started as a one-bedded clinic-cum-dispensary in 1900 by Dr. Ida Sophia Scudder, the daughter of second-generation medical missionaries. Today, this healthcare organization of international repute includes a network of primary, secondary, tertiary and quaternary care hospitals, with around 3000 beds spread across six campuses in and around Vellore, and in the neighboring state of Andhra Pradesh. CMC is particularly well known for certain departments such as Neurosciences, Gastroenterology and Hematology (where it is a national leader in the treatment of rare blood disorders and bone marrow transplantation). 6. Tata Memorial Hospital - Mumbai The TATA MEMORIAL HOSPITAL was initially commissioned by the Sir Dorabji Tata Trust on 28 February 1941 as a center with enduring value and a mission of concern for the Indian people. Tata Memorial Centre is amongst the oldest and largest cancer centers in the world, with over 75 years of exceptional patient care, high-quality training and innovative cancer research. Over the years, it has grown in size and stature, maintaining its preeminent position at the forefront of national and global cancer control efforts. Compassionate patient care remains the major focus of Tata Memorial Centre, with eleven Disease Management Groups (or multidisciplinary teams) breaking departmental silos and providing optimal care for every patient. 7. Kokilaben Hospital - Mumbai Kokilaben Dhirubhai Ambani Hospital & Medical Research Institute is India's one of the most advanced tertiary care facilities. As the flagship social initiative of the Reliance Group headed by Anil Dhirubhai Ambani, the hospital is designed to raise India's global standing as a healthcare hub, with emphasis on excellence in clinical services, diagnostic facilities and research. An institution that offers comprehensive quality healthcare services under one roof through transparent patient-centric care ensuring patient safety, privacy and dignity. An institution where Every Life Indeed Matters. 8. Manipal Hospital - Bangalore Manipal Hospital is one of India's foremost multi-specialty healthcare providers catering to both Indian and international patients. The hospital is a part of the Manipal Education and Medical Group (MEMG), a leader in the areas of education and healthcare. With more than 5000 operational beds, the commitment to the overall well-being of an individual is at the core of everything. Through the network of hospitals and an experienced team of medical professionals, the hospital provides a quality and affordable healthcare to everyone. 9. Aditya Birla Memorial Hospital - Pune Aditya Birla Memorial Hospital in Pune has 500 beds, 152 I.C.U beds, 13 O.T.S, dedicated 27 daycare beds for chemotherapy and 29 dialysis units. Aditya Birla Memorial Hospital (ABMH) is a multi-super specialty hospital located at Pimpri-Chinchwad, Pune in the West Indian state of Maharashtra. The 500-bed tertiary care facility is sprawled over 16 acres of land functions in a filmless and paperless digital environment, backed by cutting edge medical technology and IT resources. With the finest talents in medicine, be they doctors, nurses, technicians or management professionals the Quaternary healthcare center provides high quality and cost-effective medical services. 10. Shri Ramchandra Medical Centre (SMRC) - Chennai Sri Ramachandra Medical Centre (SRMC) is a quaternary care multi-specialty hospital. The hospital facility with 800 beds and 200 Intensive care units, provides healthcare treatment for over 35,000 inpatients and 2,50,000 outpatients every year. Today, SRMC is a leader in health care delivery in South India providing cutting edge state-of-art care for patients who walk through its portals daily. The Medical Centre is located in a sprawling 175-acre campus that is lush green throughout the year. Sri Ramachandra has the best physicians, surgeons and health care providers across all medical and surgical specialties and subspecialties.